Download Fax for Word (FREE Trial and Full Version)
1
Download Fax for Word by clicking the button on the right.
Supports Word 2000,2002,2003, 2007, 2010(32 bit) Supports Windows 2000, Windows XP, Windows Vista (Ultimate or Business Edition) or Windows 7
2

Save the Installation file
You will be asked to save the file to disk. Choose Save File and the file will be saved to your desktop (or to the folder you set for downloads in your browser options).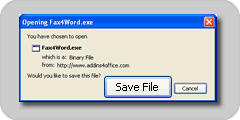 3

Run the Downloaded File
When the download is done, double-click on the downloaded file. Click on Run to open the Fax4Word Setup application to guide you through the rest of the installation.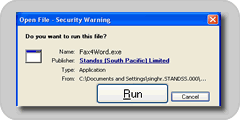 4

Start using Fax4Word in Microsoft Word.
Open Word and start using Fax4Word. Fax4Word adds a new toolbar inside Microsoft Word for you.
To start a mail merge, click on 'Fax Merge' on the toolbar.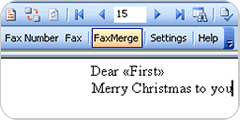 Supporting Information
Uninstall Information
End User License Agreement (EULA)

Automatically Deploy to Client Computers in Enterprise or Organization
If you want to deploy our Outlook addins to your whole enterprise or organization (using Active Directory), please contact us at sales@standss.com.
We will send you a link to an MSI installation package with instructions for customizing and deployment using Windows Server Group Policies
Testimonials
"... offers timely and responsive support of every product they have created. Every company should strive to deliver customer and tech support the way this company does."
- Dennis M. Najjar
"Using FAX4WORD to send my documents, I met my objective and am already looking for other business uses for your product. THANK YOU SO MUCH!"
- N A "Gary" Schloss Office Manager / GIS Specialist
"I paid twice as much for winfax pro and your program is by far superior"
- Nancy Trahan
I"Just downloaded your fax4word and it is a great, simple program to use. Thanks for creating the first fax program that I can actually use."
- Alan H. Barbour